it is amazing how one thing can spark our creativity. After getting into the MDK book this summer I started working on the circle of fun rug and making into a tree skirt for my MIL for christmas this year, I remembered a circular afghan my brother had as a baby. shown below.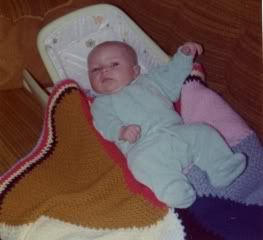 And I got thinking what if I did my own circular afghan for my daughter. the one my brother had was crocheted and I haven't seen a lot of good ideas for circular afghans. I took the pattern of the circle of fun from MDK and adapted it. At first I did the straight knit like it called for and when i did all of the stitches I realized that I didn't want to stop there and I decreased back down the other side. I also decided to add spokes to break up the colors a little as well. My first try...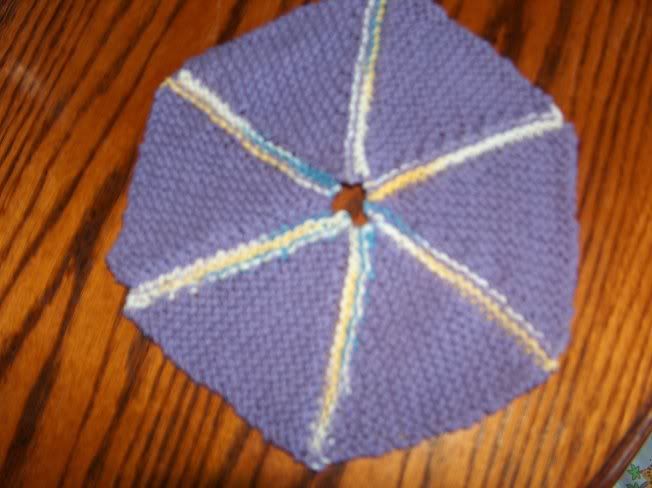 I didn't like the look of the straight knit and since I was testing with dishclothes I played with another. This time I did stockinette stitch and added a knit border as I went. Then when I finished I figureed a way to do a center with out binding off. This try made me realize I don't want the extra strings to weave in -- but it was a great start. As follows.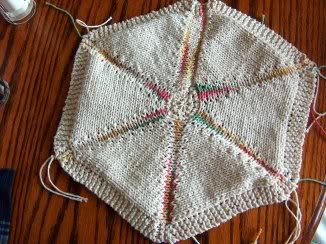 So now I was ready to start the afghan and get going. I decided to make this like a color wheel and use black to break up the colors. I then decided that I would use black as the outside border thus allowing my to carry the color along and I didn't have a lot of black ends to weave in. The only thing I would do differently is make the outside border thicker as it curls to much still. I use a variety of yarn that I was able to find at Joann's on my one shop. The red and blue are carons simple soft (1 ball each), the purple is Red hearts soft yarn (1 ball), the black, orange, yellow and green is Bernat Satin Yarn (2 each -- but if border was thicker 3 balls of black). The satin was the best to work with -- but Joann's didn't have the right shades I needed and I of course wanted to start right way!!! I hope you enjoy the results.