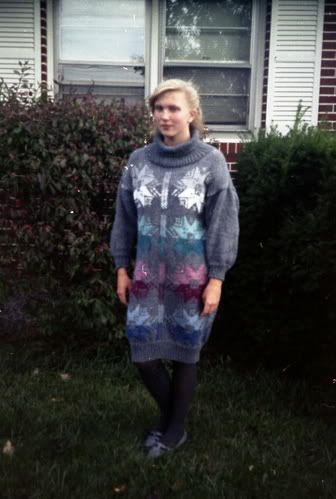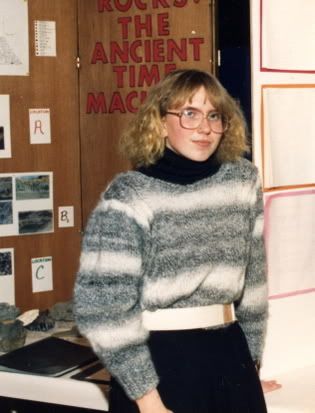 Since I am going to focus a lot of this blog to my knitting and other crafts I decided that I needed to give a history of my knitting.
My mom taught me to knit when I was about 10 or 11 years old. This was because I wanted to learn how to make sweaters. She learned to knit when she was 8 (and now has been knitting for 55 years!!). She taught me to crochet first, but I wanted to make sweaters and I didn't like the look of crochet. My first completed project was a pink v-neck vest which I wore for my 6th grade school picture. shown here to the left.
I keep knitting all through school and I could be found working on projects in school at the end of the year or on school trips.
For a while I worked on a yarn shop in high school. That is where I really got going on my knitting and then I also sold a design (the black and white) to Ungar yarn company. They never did anything with the pattern but it was a great feeling. I also did other designs like the sweater dress copying the hottest sweater pattern motif that was around at the time.
I sort of put my needles away for college and after college for a bit. one I didn't have as much time, two I could find yarn as available and three I couldn't afford what I did find. Then one major thing happened -- the chains started carrying Lion Brand yarns and they were making fashion yarn more affordable and you didn't have to use the awful arylic yarns. After that I was set again. I was working for Michaels at the time and after I left management there I started teaching more and I have been playing with more patterns and playing with more styles. And what fun it has been.